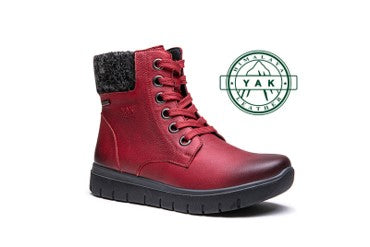 We at Foot First have been studying feet for over 20 years. They may be just feet to you ...but to us, they are our world! We want you to be an ambassador of our brand so we want to offer you 20% off
G-Comforts new winter season's hot sellers for Christmas Burgundy Leather – Waterproof – Side Zip and Laces – Removable Insoles – Non-Slip Soles – All Day Natural Comfort
Yak Leather from the Himalayas
Genuine lambskin boots that keeps you warm even in freezing temperatures without making the foot sweat.
Since real lambskin can absorb up to 30 percent moisture without you feeling damp or cold, the water vapor produced by body heat can be absorbed by the material and released again when the shoes are ventilated without the foot sweating.
The soft TPU outer soles is highly abrasion resistant and at the same time slip resistant.
German Engineering for your feet.